Mobile High-Definition Link
Edit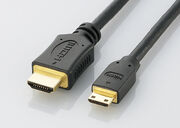 The Evo 3D comes with a single micro-USB port that supports the MHL (Mobile High-Definition Link) standard. The port has the ability to connect to an HDMI device via an adaptor or special MHL cable, while preserving the existing functionality of using a standard micro-USB port for charging and data transfer. With an MHL-compatible TV, the Evo 3D can be charged by the TV when connected. For TVs without MHL support, the phone will not charge, but the connection will be equivalent of current phones that offer HDMI-out via a micro-HDMI port.3
The MHL port on the phone has the same form factor as a standard micro-USB female port; therefore, it is not possible to connect the Evo 3D to a TV via a micro-HDMI cable, which its predecessor, the Evo 4G, utilized. Instead, an adaptor with a micro-USB male connector on one end and an HDMI female port on the other end can be used in conjunction with a regular HDMI-male cable to connect to the TV. Alternatively, a new cable consisting of micro-USB-male to HDMI-male can be used. Because MHL is a very new standard, cables and devices supporting it are still sparse.
Ad blocker interference detected!
Wikia is a free-to-use site that makes money from advertising. We have a modified experience for viewers using ad blockers

Wikia is not accessible if you've made further modifications. Remove the custom ad blocker rule(s) and the page will load as expected.