Kickstand (not)
Edit
Despite being the successor to the HTC Evo 4G, known for pioneering a kickstand for hands-free landscape viewing, the Evo 3D will not include a kickstand. The dual cameras and the larger battery left no additional room for the placement of the kickstand, which on the Evo and other HTC phones are physically connected to the body of the phone. However, a thin case with kickstand was featured at CTIA 2011. The accessory will likely be sold separately.
Kickstand CaseEdit
The kickstand case revealed at CTIA 2011 showed a kickstand approximately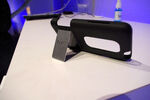 one-inch wide and similar length to that of the Evo 4G. When attached to the phone, the kickstand props the phone on its portrait-left edge, the same side as the
MHL charge port
. Initial reception to this design have been critical, noting that it's no longer possible to keep the phone charging while watching a video with the phone propped by the kickstand. The kickstand case does not offer a method to reverse the swivel of the kickstand to allow the phone to be propped on its portrait-right edge. Likewise, the case cannot be attached upside down to simulate a swivel reversal because of the openings on the edge of the case lining up with existing buttons and ports.
Ad blocker interference detected!
Wikia is a free-to-use site that makes money from advertising. We have a modified experience for viewers using ad blockers

Wikia is not accessible if you've made further modifications. Remove the custom ad blocker rule(s) and the page will load as expected.